With more than 10 years of experience and being one of the oldest and earliest dental clinics, Dr Aggarwal's is most certainly the best dental clinic in Chandigarh. We at Dr. Aggarwal's believe in serving our patients with entire perfectionism to bring out the best smiles. Patient's care and safety is our first priority and we never compromise in that. Our vast experience ensures that you will get best dental treatment in Chandigarh.
Each time when a person looks forward to see a dentist, the very first thing that comes to his mind is who gives the best dental treatment near me ? And if you are from the city beautiful – Chandigarh; the best dentist in Chandigarh has got your back.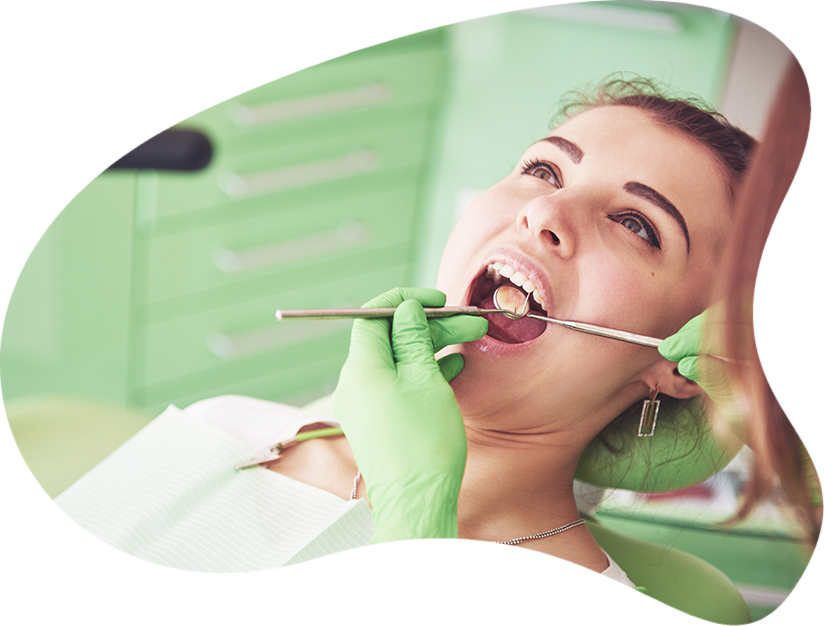 We make sure to alleviate your experience and provide you with the best results. It is a hassle-free process to get in touch with us and we will provide you with utmost satisfaction of getting your desired results in economical and pocket friendly budget. We are highly skilled professionals to serve as best dental clinic in Chandigarh. Usually, we notice that people these days are suffering from lot of oral problems and they have to visit different clinics for their specific problems but you need not do this anymore.
We at Dr. Aggarwal's make sure you get a complete oral solution to all your problems at a single place and our name will definitely struck your mind. It's a fact that time is most valuable thing and we must take care of it. if you are in any kind of tooth problem you will definitely look for rapid relief and you will definitely think once that it would be great if I could get the best dental treatment near me . we made this easier for you as we are offering our best dental services under one roof . So the next time you think about the best dentist near me in Chandigarh, Do think about Dr. Aggarwal's.
WHY CHOOSE DR. AGGARWAL? – The Best Dentist in Chandigarh
Being one of the earliest established dental clinics in Chandigarh that dates back to May 1984, the clinic has been turned into a huge healthcare center with eminent facilities. We are a team of dedicated professionals that are skilled and expertise in their field of specification. While we firmly maintain the ethos of practice, we also make sure to provide our patients with extraordinary care and support with their tooth problems. So on the whole we are a one stop solution to all the oral problems to be called as best dentist in Chandigarh.
We believe in assisting our patients even after their treatment to get in touch with them from time to time. This helps us to maintain an easy track for our patients' well being.  When you choose to trust Dr. Aggarwal, not only you trust the best dental clinic in Chandigarh but also you trust the successful patient history of over half a million people and many of them just walked in to our clinic by just searching best tooth treatment nearby and we are glad to disclose that our patients are really satisfied with our services as the best dentist near me in Chandigarh. Our clinic consists of doctors from the most prestigious institutes across the globe. That clearly helps us to stand out from the ordinary ones.
This also helps us to keep ourselves motivated and updated with the current transformations in medical field to provide our patients the best treatment , which is our primary responsibility as well. So all those achievement disclosed above help us to stand with a distinction and to lead as masters when it comes about the best dental treatment in Chandigarh.
BEST DENTAL CLINIC IN CHANDIGARH
We just don't talk about being the best dentist in Chandigarh, we indeed are by having a valuable feedback of our patients after they got the best treatment with us. Our wide range of treatments and services, world class machinery, expert staff, patient friendly environment speaks for our clinic's name.
We have worked really hard with all our efforts and skills to satisfy our every patient and by providing them the best we have. We provide diverse treatments from intensive care, non-surgical intervention to dental surgery with rehabilitation. Our patients from all over the world are the epitome of our services as medical professionals and we will always cherish this achievement. While suggesting the accurate treatment to the patients, we choose to keep a transparency and safeguard their faith in us.
Safeguarding the faith of our patients is our moral as well as primary responsibility and we are consistently performing this. Usually it has been noticed that patients really hesitate to opt for a treatment or they get worried about post treatment results and complications , we are here to make our patients feel safe and satisfied as their safety is our priority and providing them the best treatment is our major responsibility and we don't compromise in that at all.
So the best treatment begins only when we gain the faith of our patients and we are proudly blessed that our patients show complete faith in us once they get to experience our care and treatments which undoubtedly make us the best dentist in Chandigarh region. We at Dr. Aggarwal's strongly believe that there is always a scope for betterment and we are constantly adapting best and advanced measures required with the time to be on the top list of best dental clinic in Chandigarh region and this is only possible because of our communication channel with our patients which help us to get their valuable feedback from time to time.
WHAT MAKES US THE PREFERRED CHOICE OF THE PATIENTS?
As a patient , who is suffering from acute pain he will always search " Who provides best dental treatment near me" and we are a one stop solution to all the problems one might be dealing with. When our patients keep faith in us, we tend to stand by our ethics and help the patient thoroughly. Patients are usually anxious and they stress about dental treatment and what comes with it. Patients are also worried about the post treatment results.
We at Dr. Aggarwal's alleviate the anxiety by giving proper knowledge to the patients and guiding them. We make sure that there is no scopr of hesitation left between us and the patients so we explain them the whole treatment procedure thoroughly and also ensure them for the safety measures. We try to make the treatment process be less painful using the advanced technology but also create a safe space for the patients and we organize special interactive sessions for counseling to build a bridge for a healthy communication and we leave no space for doubts and worries.
A treatment is considered to be successful only after the satisfaction of the patients and as professionals we highly appreciate to have the valuable feedback from our patients so that we keep ourselves boosted and keep performing well in future as well. Our faith and trust has raised above the bars from over the years and this was only possible because of the valuable feedback of our patients after their treatment. We really feel blessed to proudly call us best dentist in Chandigarh.
LOOKING FOR DENTAL TREATMENT NEAR CHANDIGARH?
You need not worry at all! We make sure that you have come to the right place for the search of the best dentist in Chandigarh and we assure you that we will not let down your choice and decision to visit us. Being the best dental clinic we are here to serve you with utter dedication towards our work that would not fail to impress you at all. Teeth treatment is a very delicate issue for most of the people.
If you are from Chd or around, put the hesitation away and take a step towards the best clinic near you. We strongly believe in doing everything practically rather than just talking with pride and our patients know this approach very well. So ever since we started as dentists , we strongly emerged into the best Dental Clinic in Chandigarh region.
As per the current scenario, medical sciences are on the peak of development and one must adapt the latest technologies to make the treatment procedures easy and effective . we at Dr. Aggarwal's are the constant adaptors of changes which automatically help us to provide you the best treatment under one roof with advanced technology and procedures.
KEY POINTS THAT MAKE US STAND OUT !!
Economical and pocket friendly budget
Masters in this specialized zone since 1984
World class technology and advanced knowledge.
Proper guidance to patients
Pre and post treatment track of patients
Priority on patients' care and safety.
Best clinic due to vast experience.
The one stop solution for best treatment.
HOW TO BOOK AN APPOINTMENT AT THE BEST DENTIST IN CHANDIGARH?
You can simply call us at +919815988224 or visit the Chandigarh at Dr. Aggarwal's multispecialty clinic. Prior Appointment or walk in as per clinic timings are equally welcomed.
We look forward to serve you with utmost care. Thank you for keeping faith in our services and helping us to rise as best dentist near me.