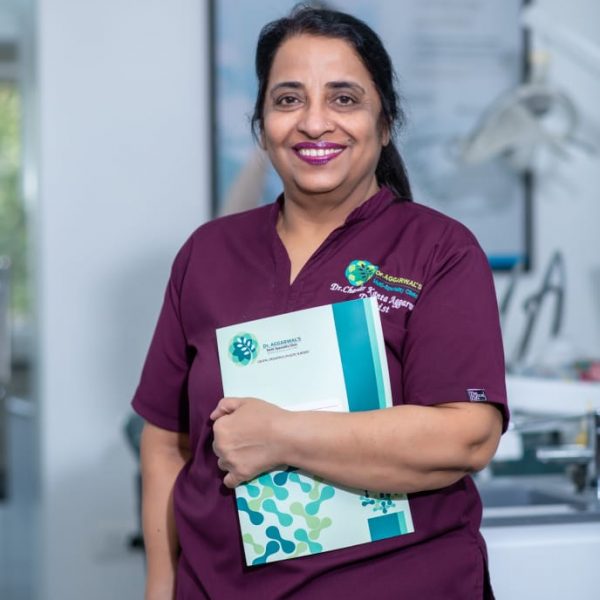 Brief Profile
Passed her B.D.S from Government Dental College, Amritsar in 1982 as the Best Graduate. Following that, she completed one year on MDS Oral Surgery under Dr. Kapila in GDC Amritsar. She worked in Punjab Civil Medical Services from 1984 to 1990. She joined her husband Dr. Narinder Aggarwal 's practice since. She did further training in all aspects of Dentistry including dental implants by Dr. Suvarna Nene, workshop on Sinus Lift Surgery by Dr. Tastori at Lake Como, Italy, Dr.Bergemann in Heidelberg, Bredent Conclave at St. Petersburg Russia and training from Dr. Ophir Fromovich in Tel Aviv, Isreal. She has attended various national and international conferences including world meeting of EAO in Sweden. She finally settled on her true calling, endodontics and has since gained expertise in root canal treatment. She is an avid traveller and Yoga enthusiast with great zeal for achieving the best.
Dr. Chander Kanta Aggarwal
Doctor Details
Location:Chandigarh
Nationality:Indian
Languages : English, Hindi
Gender : Female
Qualification
BDS (Best Graduate), ex – PCMS
All facilities are good they are cooperative. Very polite well dressed nurse. They treat patients in very well way.
Great servives, great doctors and great staff. The doctors are well experienced.. Auch a wonderful experience.. I recommend this hospital to all those who are in Search of a orthopedic hospital best for joint and other ortho problem
A nice and professional experience. Dr. N.K. Aggarwal is award winning dentist and is adept in his field and he doesn't depend on the interns like other dentists. Dr. N.K. Aggarwal personally examine the patients and do the needful. He is very polite and focuses on the patient. Also, a prior appointment is mandatory if you don't want to spend 2 hours waiting for your turn otherwise you can visit without appointment as well if don't mind waiting that long.