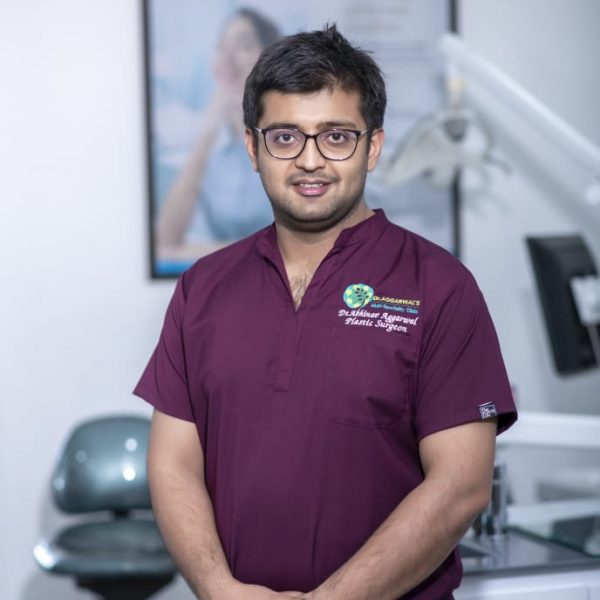 Brief Profile
Completed his MBBS from GMCH – 32 in 2012 and went ahead to join the prestigious PGIMER for his general surgery training. After completing his M.S, he joined the reputable JIPMER, Pondicherry for his training in Plastic surgery. He is well versed in reconstructive, cosmetic and hand surgery. He was an integral part of the team which conducted the first Hand Transplant in the public sector in India and has been a part of 3 transplants since. He has been a part of Smile Train project in India and has been a part of numerous workshops since. He was trained for Rhinoplasty under Prof Ö Taskin Yucel in Ankara, Turkey. He was the recipient of the prestigious ISAPS international aesthetic surgery fellowship 2021 and trained under the master Dr. Michel Pfulg in Montreux, Switzerland.
He is an active member of Indian Academy of Aesthetic Plastic Surgeons (IAAPS) and is Board Certified.
He is passionate about aesthetic surgery and his approach is towards safety and perfection
He is currently working as a visiting consultant in Max Super-speciality Hospital, Mohali and Paras Hospital, Panchkula.
He is a music fan and loves his music.
He has more than 25 publications in national and International journals in the country
Dr. Abhinav Aggarwal
Doctor Details
Location:Chandigarh
Nationality:Indian
Languages : English, Hindi
Gender : Male
Qualification
 MBBS (GMCH – 32)
 M.S. (General Surgery) (PGI Chandigarh)
 M.Ch. Plastic Surgery (JIPMER, Pondicherry)
 Fellow ISAPS (Montreux, Switzerland)
 Fellow Rhinoplasty (Hacettepe University, Ankara)
All facilities are good they are cooperative. Very polite well dressed nurse. They treat patients in very well way.
Great servives, great doctors and great staff. The doctors are well experienced.. Auch a wonderful experience.. I recommend this hospital to all those who are in Search of a orthopedic hospital best for joint and other ortho problem
A nice and professional experience. Dr. N.K. Aggarwal is award winning dentist and is adept in his field and he doesn't depend on the interns like other dentists. Dr. N.K. Aggarwal personally examine the patients and do the needful. He is very polite and focuses on the patient. Also, a prior appointment is mandatory if you don't want to spend 2 hours waiting for your turn otherwise you can visit without appointment as well if don't mind waiting that long.